Teleworking, the challenge for businesses facing the Coronavirus
Wednesday, March 4th, 2020
Gisela VilaBack to blogs >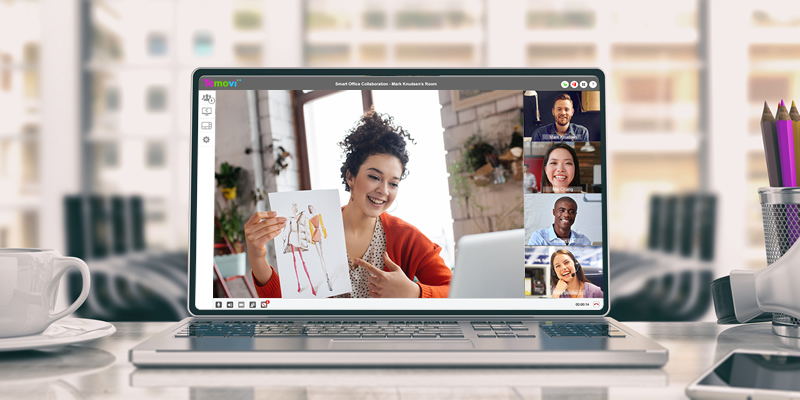 With the outbreak of the coronavirus, business travelers are considering if they should change travel plans or even cancel trips. In 2018, 6.6m business trips were taken to the UK and 8m business trips taken from the UK (Finder.com 2020)
Covid-19, commonly known as Coronavirus, has infected more than 60,000 people in dozens of countries - though the vast majority are in China - and killed more than 1,300. Chinese officials have locked down Wuhan and other cities, but the coronavirus is still spreading. Right now, there is no direct airline service to China from the US and several other countries. Some airlines such as American Airlines, Delta Air Lines, United Airlines, Air France, British Airways and Lufthansa have suspended all flights to mainland China.
The outbreak is not just affecting those countries directly hit by the virus; many world-wide businesses are taking extreme measures due to the uncertainty of the situation. Attendance at meetings and conventions for business travelers is also being impacted.
Teleworking facing coronavirus crisis
Epidemics may change the way we work. The coronavirus has increased the level of teleworking within organisations, mostly due to the vast majority of quarantine citizens unable to attend to their workplace due to the risk of contagion. It is important to highlight that most corporate travelers travel just once per year for various purposes; 44% of business travelers fly to visit a customer and 32% fly to visit another company office in a different city (Fly Aeolus).
We are in the middle of a world revolution on remote working, considering that millions of businesses are choosing this communication solution right now to meet with customers or employees.
Teleworking is considered an important business improvement and it's possible due to business solutions such as Temovi Real-Time communications, with Cloud Contact Centre and Smart Office Collaboration tools. Our cloud solution encompasses a wide range of features that enable daily office work to be carried anywhere with an internet connection, including Videoconferences and screen share options to enable online meetings. By using communication solutions like Temovi, businesses are reducing the risk of exposure on coronavirus with an alternative to face to face meetings.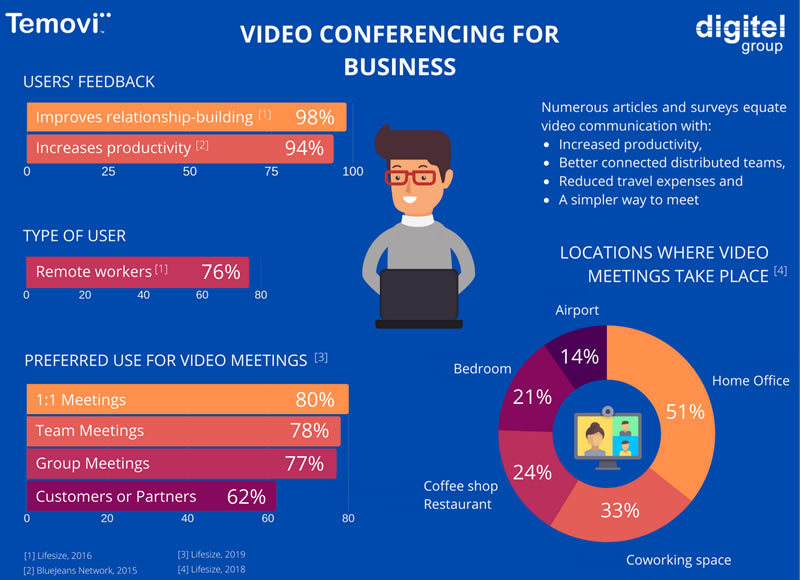 Unlimited teleworking benefits for your business
Firstly, it is important to consider the monthly and annually savings for employees and the business itself. By providing teleworking to your employees you don't need to invest in an office space and all the bills involved with working in an office.
Secondly, you need to bear in mind the amount of money spent on commuting; 19% of UK workers' annual salary goes to commuting. The average UK employee spends £146 a month commuting whereas, with teleworking, teleworkers save on commuting time and commuting costs.
Teleworking also empowers employees from any company to communicate in real-time, enabling them to share any type of information, initiating online meetings, inviting attendees, sending text messages, etc. which helps improving the workflow of the business.
Believe it or not, working remotely results in a more efficient work performance, providing the employee with a better work-life balance enhancing the worker flexibility and happiness.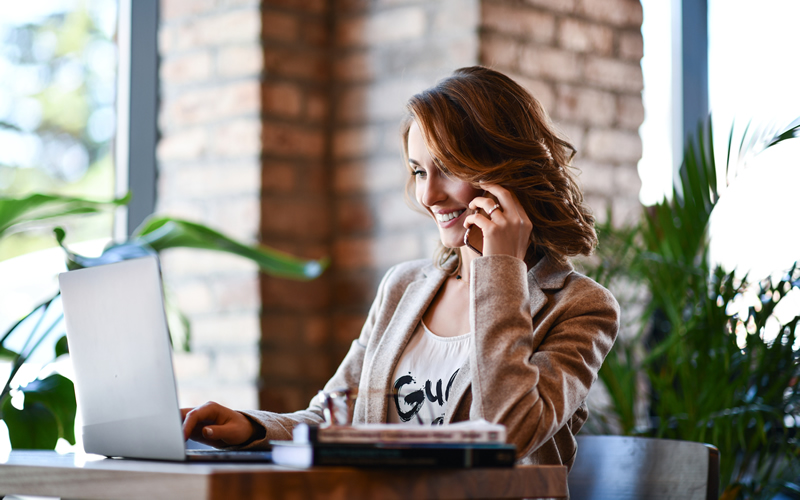 Which teleworking features and tools does Temovi offer?
Temovi delivers solutions that improve user productivity and customer engagement. It has the scale and administrative tools to support one location or a thousand; offering the same features worldwide. So, whether your business needs 1 extension, 10 extensions or 10,000 extensions at one location or networked through the UK or around the world, Temovi Business Cloud is the right choice for your business.
Temovi delivers many features and solutions for any business size and industry. Firstly, Temovi Smart Office Collaboration delivers videoconferencing services with screen share options. Users can initiate an online meeting from anywhere and any device just with a click, invite participants around the world and share a screen presentation in real-time.
Secondly, our Cloud Contact Centre helps businesses managing incoming call volumes (with agent groups and announcements) across multiple employees, even multiple locations with real-time reports.
Lastly, but not least, Temovi Cloud Solution unifies all your communications, integrating all your messaging; email, voicemail and online fax messages in one communication solution getting access anytime, from any device and any place in the world.
Temovi is a solution that makes teleworking from home easy and effective, increasing the efficiency of remote workers with the right tools for the job.