Openreach calls time on traditional phone lines.
Saturday, April 20th, 2019 Back to press releases >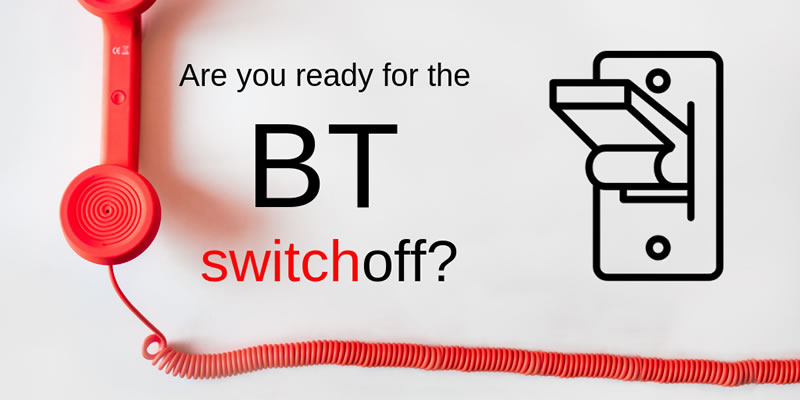 Important announcement!
Every Business and Residential Telephone Service that uses a traditional phone line will be Discontinued by 2025!
Following 12 months of consultations with Digitel and other network service providers, Openreach have finally served notice of changes that will seriously affect all businesses and residential services in the UK.
These changes will impact every traditional telephone line and service throughout the UK including all analogue lines, all ISDN2 and ISDN30 lines, together with millions of broadband connections.
The changes will affect virtually all telephone lines and services throughout the UK including all Analogue and ISDN phone lines. They will be removed from sale by September 2023, and from 2025, Openreach will no longer provide any traditional voice or line services. These will include services such as Analogue, ISDN2, ISDN30, Payphones, SMPF, Alarm Lines, Narrowband Line share and other PSTN based line types. This will have serious implications for both business and residential users as the above services will be fully decommissioned by December 2025.
To prepare for this VoIP conversion we will be working closely with both our customers, BT Openeach, other communications providers and industry groups. This will involve participating in regular working group sessions to discuss key topics including the rollout schedule and key milestone dates for impacted products.
The conversion will require some businesses to change hardware; your router may need to be changed to a VoIP enabled router, your telephone system may need upgrading depending on its age and your fax machine will almost certainly need to be upgraded to a VoIP compatible fax or replaced with fax server software.
Why is this happening?
The UK is switching from a voice first communications model to the data first model. All your phone lines will have to be converted to Voice Over Internet Protocol (VoIP) trunks. Your phone numbers will not change; it just means your telephone calls will be transmitted across your broadband service.
It seems that 2025 is a long way off, however, with over 16 million telephone lines and millions of broadband services to be disconnected and upgraded to new services, this means over 222,000 lines have to be disconnected and converted each month over the next 72 months! Now is the time to be proactively planning for switchover dates. Over the balance of this year our account managers will be communicating with all our customers to provide them with information and advice as to how they should proceed.
At the Digitel group we have been preparing for these changes for several years; the systems that we have been installing for the last few years are all compatible with the new VoIP services. Two years ago we invested in our purchasing our own 21st century cloud-based communications exchange called Temovi. Temovi provides real-time communications for SIP trunks and a full range hosted cloud telephony services.
There will be a lot of advantages in converting to the new VoIP network; your account manager will explain the differences when they contact you. Those Digitel Business Communications, INet Intelligent Networks and Unitel Network Services customers who have already converted to VoIP services using our SIP Trunks and Temovi hosted services have already converted to the new VoIP network.
However, if you have any remaining analogue or ISDN lines, analogue fax or broadband services over ASDL, you will need to convert them over to SIP based trunks as soon as possible. One example of a successful changeover Digitel have assisted in is Lingl UK, an industrial equipment manufacturer with branches in the UK and Germany. Their case study is detailed later in this edition of Digitel news.
Areas of Particular Interest:

Analogue lines, ISDN2, ISDN30 lines.
ADSL Broadband lines.
If any of the affected service lines as 'backups' to the data systems.
Alarm monitoring lines.
Payment processing lines (credit card machines).
Fax Machines.
Older, non-VoIP Telephone Systems.
Point-Of-Sale Terminals.
Lift lines and infrastructure monitoring / environmental control systems.
An isolated site where this is their only means of communications.
What should I do?
Look at the above information, carry out your own mini survey of your company and be prepared for the changes by taking a good look at what you have that uses a telephone lines in any way. If you have any specialist equipment connected to the affected services please contact us to discuss your requirements.
What happens next:
Digitel Group companies have been providing VoIP services for many years. We were one of the first companies to adopt VoIP/Hosted cloud solutions, so you can rest assured you are in very good hands. As Openreach start releasing the replacement services, which will start in September, Digitel Group companies will be working closely with our customers, making sure all of our next generation products are already in service.
We will continue to keep all of our customers fully informed. If you require any further information or are concerned about any aspect of the upgrade programme please contact your account manager or call our conversion hotline (0151 650 6311).